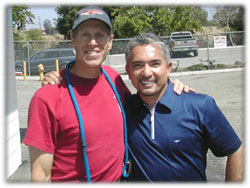 Welcome!
The mission of Dog-Gone Behavior Issues, LLC is to ensure your dog is provided with all the required elements of a joyful, happy and fulfilled life!
Rob Lerner, founder and head trainer at Dog-Gone Behavior Issues, LLC, has been sharing his love for dog training since 2003, when he began volunteering at the Agoura Animal Shelter. In 2010, Rob was honored as the shelter's "Volunteer of the Year."
Over the years Rob's reputation for success has grown considerably and he is well known for his rehabilitative skills and expertise using the most up-to-date positive reinforcement techniques. Rob works with dogs of all types but especially enjoys rehabilitating fearful and fear-aggressive dogs.
Rob's work has been featured on Cesar Millan's, The Dog Whisperer, on the National Geographic Channel, where he successfully rehabilitated "Sissy," a very fearful German Shepherd mix rescued from a hoarder. Rob continues to provide consultations to Cesar's clients upon request.

Rob and Sunny in Mammoth
Rob currently holds the following credentials:

Certified Professional Dog Trainer - Knowledge and Skills Assessed (CPDT-KSA) from the Certification Council for Professional Dog Trainers (CCPDT)

Professional member of the Association of Professional Dog Trainers (APDT)

certified by the American Red Cross in canine CPR and first aid
Rob's passion for helping led him to Louisiana in 2005 to join the Animal Search and Rescue Team for Hurricane Katrina victims. He is a certified member of the National Disaster Animal Response Team (NDART).